Here comes the second version of my very first icon set- Heart: Free Social Iconset. This iconset contains 36 39 social media icons in three  different resolutions (64×64, 32×32 and 16×16).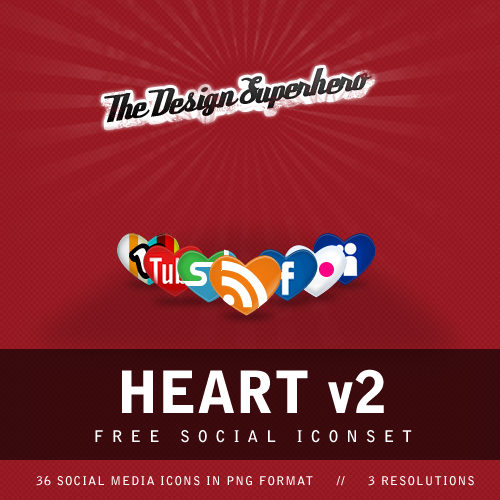 If you are not aware of, Heart Icons was the first iconset I have ever designed. It contained 22 social media icons in three resolutions and it was realeased via Smashing Magazine.
In this release I have added up more icons including  YouTube, Vimeo, Blip.tv, Viddler, Metacafe, WordPress, Drupal, Blogger, Orkut and Myspace.
Full Preview

[03 Apr '09]UPDATE : Added three more icons as suggested by @TariAkpodiete
This iconset is completely free for commercial and personal projects. But you are not allowed to offer this icon for downloading directly from any other websites.

---
To add attractive icons in a website one need speedy best web hosting servers and there are few top class cheap hosting companies that offer well configured hosting server.